Articles
The driveContent subscription (for adding video content anywhere on your website - such as your Services page or Specials page) also includes the ability to email videos to your customers. The content you email is sent from your own email account, and is simply sent as a link. You can include any other text, contact information, images, or other items you want with this link in your email. This is a great way to enhance newsletters, service reminder or suggestion emails, and even put pictures on Social Media with a link to a specific video template.
You can save links for service videos you use often in any document on your computer, and use them over and over with different customers at different times. You can also include the link in posts on Facebook, Twitter, etc, to share recommendations with your customers. The link takes your customer to a page with a template of your choice, and includes your business name and logo, along with the video you've chosen from the AutoNetTV Drive system. You can email any videos created by AutoNetTV, Industry manufacturers, or videos in your own User or Corporate tab of content.
To access your email template and settings, click on the Web tab in your subscription products area.

Next, click on the orange Email Templates button underneath the Web tab.
At top left, click the button next to Change Template. You can pick one of several templates, which will preview in the window below. You do not need to Save - the system will simply remember the last template you've chosen.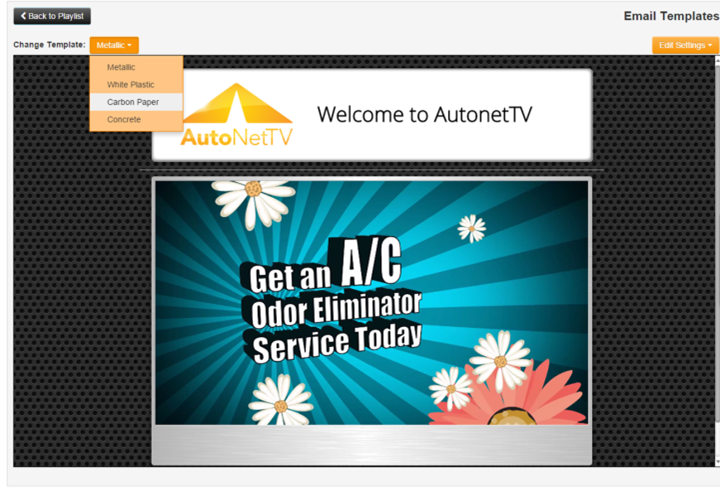 Once you're satisfied with your template choice, you'll notice an orange Edit Settings button on the right side of the screen. Click this to choose your logo and edit the main text that appears on your template (most simply add their business name).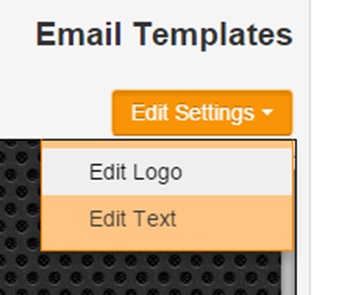 To email an asset from the system, simply find the image or video you want to send, and then double click on it to open the preview window. You'll see an Email Link button at the top of the preview window. Click this button.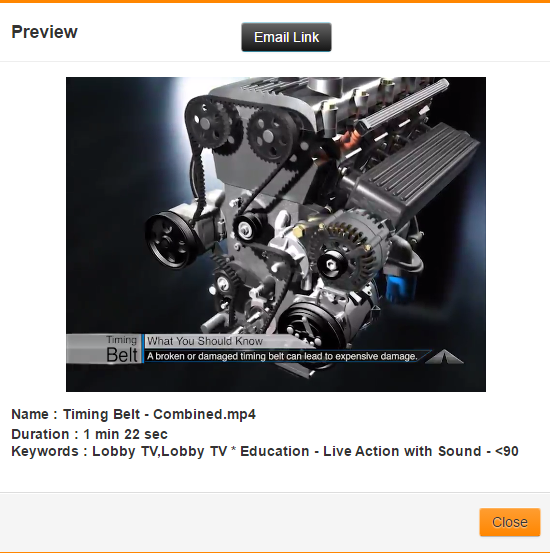 Once you've clicked the Email Link button, you'll see a window, like the one shown here, that gives you a short or bity code to copy and paste into the body of your email from within your New Email Message you send to your customer. You can use this same link any time you decide to send this same image or video to any customer. You can even save it in a Draft or Template email and send it over and over to multiple customers, anytime this specific service need arises.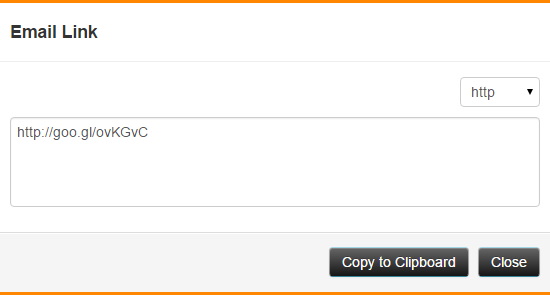 Below is a quick video example that shows what the video looks like to the recipient, your customer, when they click to view it. It's using one of the templates, and the AutoNetTV logo (which would be your own), and the text we typed of "Welcome to AutoNetTV".

The videos and template are built in a responsive web design, so the content can be seen on computers as well as mobile devices.
With a subscription to driveContent, you can also add an iFrame of any video in the AutoNetTV system anywhere you want on your existing website. You or your webmaster will simply need to add the iFrame code one time in the place on your website where you want the video to display. Then, without webmaster skills, you can easily change what video plays in each iFrame with a simple drag-and-drop in the AutoNetTV Drive login.
If you want to follow some more tutorials for new users, you can learn all the cool features and basics by clicking here http://autonettv.com/newuser.