Articles
Note – before beginning, make sure to have the login information for both your Xtime and AutoNetTV online accounts. The majority of the below requirements are from Xtime, so most questions relating to this information should be directed to Xtime for support/assistance - http://xtime.com/about/contact-us/, or (866) 984-6355. You can also open an Xtime Support Ticket at http://support.xtime.com/hc/en-us/requests/new.

Step 1 – Add Status Board and Configure in Xtime. In this same Applications section of Xtime, choose Status Boards in the left side menu. In this window, Board Management section, click the Add button at top right.


You can configure your status board settings – including what information to display, color settings, URL of a logo, name to display on the board, etc.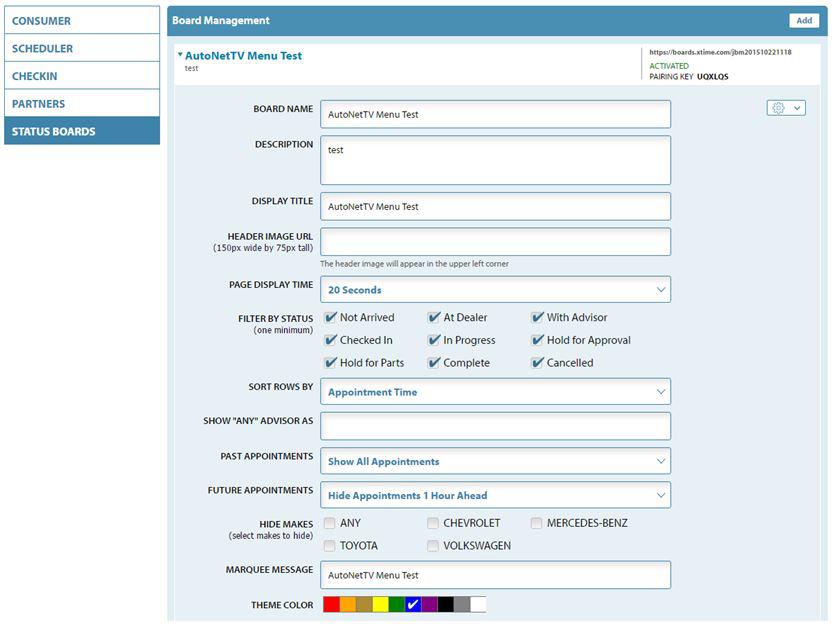 Step 2 – Obtain Xtime URL. At the bottom, choose Save. This then displays the Board Activation screen, containing the URL that applies to this board display (NOTE – dealers may have more than 1 AutoNetTV subscription, such as multiple menu boards, Lobby TVs, etc. For each product device on which you'd like to display the Xtime Status Board, you must Add another board in Xtime following these steps). Below is an example website URL - for sample purposes only. Do not try to use this sample URL - it will not work with your account.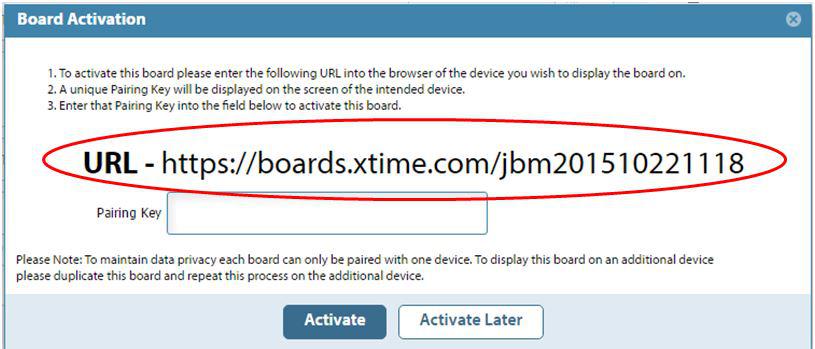 This URL shown in the Board Activation window must be entered into your AutoNetTV Drive login account. You will only have to enter this URL once in the AutoNetTV system, regardless of how many subscription devices you have. But, as noted above, you will need to add a new Board in Xtime for each device on which you wish to display your status board.

Step 3 – Add URL to AutoNetTV. To add the Xtime provided URL in the AutoNetTV Drive system, login to your account at http://drive.autonettv.com/, and then click the purple My Data Feed button on the dashboard.


Click the "+ Add Feed" button at top, and choose Xtime. In the new window that appears, enter the URL given in the Xtime Board Activation window (shown above in Step 3). Choose the device(s) to which the settings apply, and then click Add.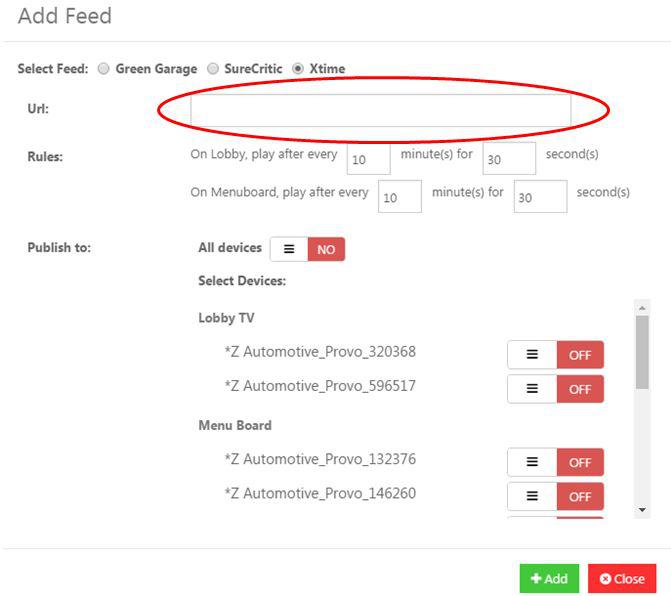 Step 4 – Obtain Xtime Pairing Key. Once the above information is added, you'll need to wait for the URL to be sent to the player (Note – the AutoNetTV media player device must be connected to the Internet in order for these changes to apply). After several minutes (the length depends on how often the Xtime display has been set to show on screen - generally anywhere from 5 to 30 minutes), the TV will display an Xtime Pairing Key on screen for that device (this is an Xtime requirement to match the AutoNetTV device to the display board added in the Xtime account). If you have 2 different AutoNetTV device subscriptions, then each one will display a different Pairing Key. Write down this pairing key so you can enter it into the Xtime system - next step. NOTE - the Pairing Key shown below is just an example and will NOT work on your account. Your device MUST be online for this Pairing Key to display. To learn how to tell if your device is connected online to the AutoNetTV servers, read the support article Here. You can also read our support articles on fixing the most common connectivity problems, including firewall and other advanced settings, by clicking This Page.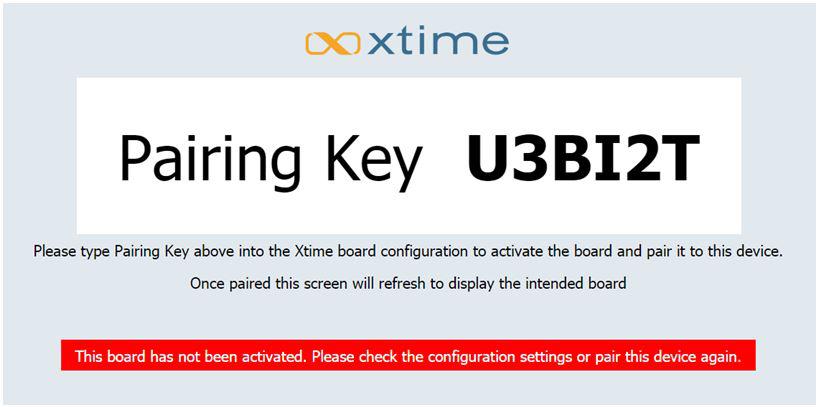 Step 5 – Enter Pairing Key in Xtime. Once you write down the Xtime Pairing Key(s), displayed on the TV screen connected to the AutoNetTV device, you must then enter this Pairing Key into the Board Activation window in Xtime (discussed above in Step 3), and then choose Activate.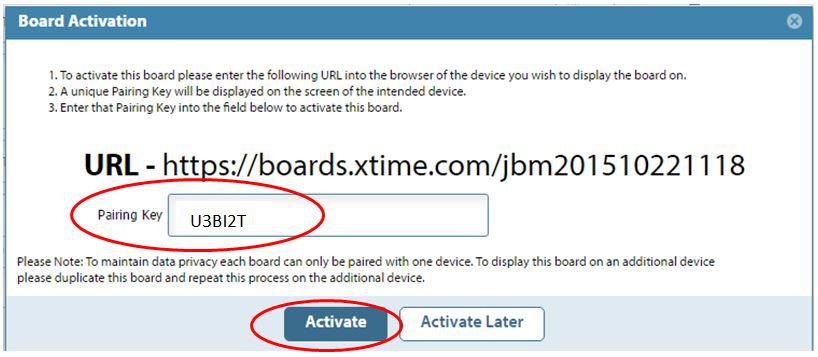 NOTE – each board created can only have 1 pairing key, and it must match the correct board created. Once the pairing key has been added in the Xtime system, the Xtime system will display the appointment/status board information via the AutoNetTV device on your TV screen.
Once done, the Xtime customer information will display in the AutoNetTV program at the intervals chosen in the AutoNetTV Drive Data Feed entry (reminder, the AutoNetTV device must be connected online to receive this updated information).
Step 6 – Update Pairing Key Annually as Required by Xtime. The Xtime Pairing Key is automatically scheduled by Xtime to expire after 365 days. At that time, the Dealer will need to complete Steps 5 & 6 again, every 365 days, in order to keep the Xtime Status Board displaying content properly on the AutoNetTV device.

TECHNICAL NOTE - If you've followed all of the above steps, and your AutoNetTV player only displays a white screen with no actual Xtime content, then you may have a firewall or other network restriction that needs to allow the feed from Xtime. Please visit our Advanced Network Settings support page at http://support.autonettv.com/topics/40-advanced-network-settings-static-ip-whitelist-and-mac-filtering/ for information on whitelisting *.xtime.com or other domains for your network.